Annual K Bar Z 3D Weekend
June 9 @ 6:30 pm

-

June 11 @ 4:30 pm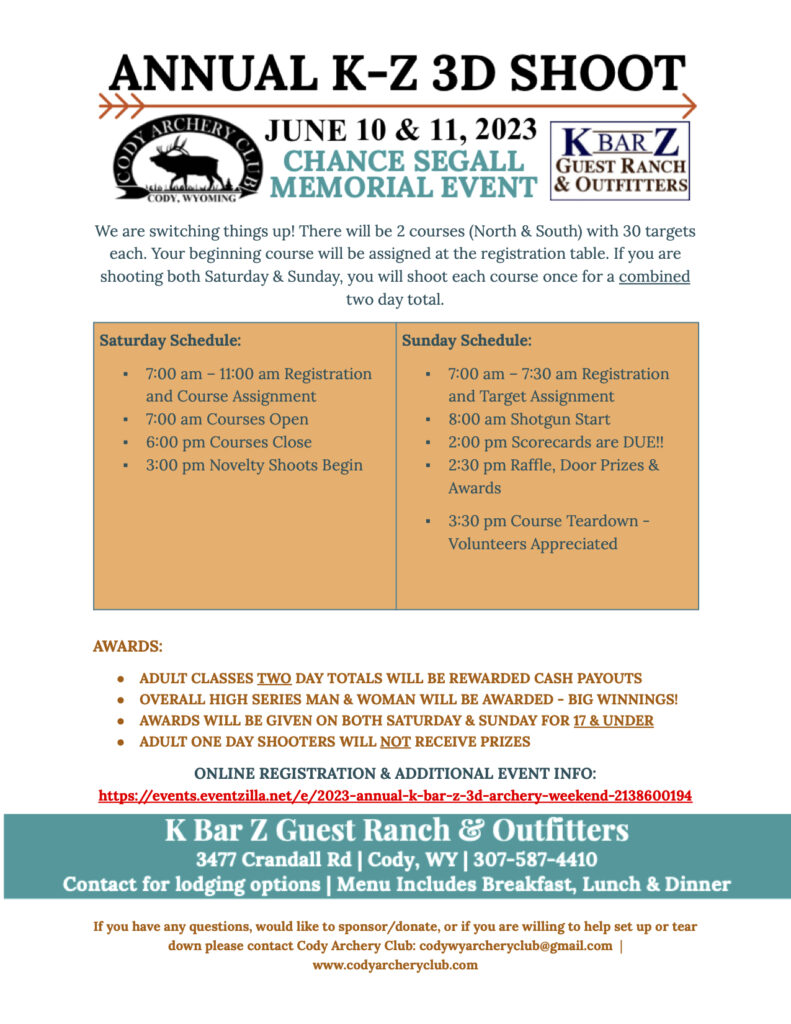 https://bit.ly/2023KBarZ     Click Here for Early registration until June 5. On site registration will be available at the shoot
Cody Archery Club's annual K Bar Z 3D Event takes place the second weekend of June every year at the beautiful K Bar Z Guest Ranch in Crandall, Wyoming. Make sure to call the ranch as early as possible to reserve your cabin or camping spot. They go QUICK!
WE are switching things up for 2023! There will be a total of 60 targets split into 2 courses. Each participant will shoot a course each day. Your course will be assigned at the registration table. If you are shooting both Saturday and Sunday, you will shoot each course once for a combined two day total for money payback! There will NOT be awards for each day, you must shoot both days to qualify for money payback!
The shoot goes on no matter the weather, so pack accordingly. Wyoming weather can change in an instant!
Saturday afternoon is jam packed with novelty shoots starting at 2:30 PM. They are kicked off with a youth Novelty shoots followed by an adult Novelty shoot, and milk jug shoot!
Feel free to contact a board member or email the club at [email protected] for more info.